Homemade Bone Broth From Grass-Fed Animals
Collagen-rich bone broth has been a core part of the diet of many cultures for millennia. We continue that tradition by cooking the bones of grass-fed animals over a low flame for 18 hours, creating a highly nutrient dense and nourishing broth.
The best part about Springbone is their morals and philosophies when it comes to food and nutrition.

Nicole Cogan, Founder & CEO, NOBREAD
Springbone is a healthy eaters paradise, you'll feel good after eating what this health spot has to offer.

HBFIT
I love when I can tell a client that the whole menu is approved, and that is the case at Springbone.

Molly Rieger, health coach and registered dietitian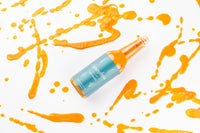 Our 5-star hot sauce
Originally created for one of our restaurant's best-selling dishes, this hot sauce is now one of our most popular creations on its own. After our customers got a taste of it they quickly started demanding that we sell it in larger quantities. We are excited to share it with you!
Try it now